Complex Tool Designs and Quality Engineering to Achieve Unmatched Electrical Steel
Lamination Precision
Tempel's 75+ years of experience in tooling design and manufacturing means you can trust us to deliver the highest quality complex tooling for your motor and transformer applications. Our team of experts understands the precise requirements for manufacturing and die design. We select the best steel and carbide components and build top quality tooling to meet your specific needs. Whether you need tooling for high-end laminations or complex custom designs, we can help.
Custom Tool Design
Precision tools that meet your exact needs start with a deep understanding of your requirements. Our team of experts will study your prints and specifications to ensure the finished tool is perfectly suited to your application.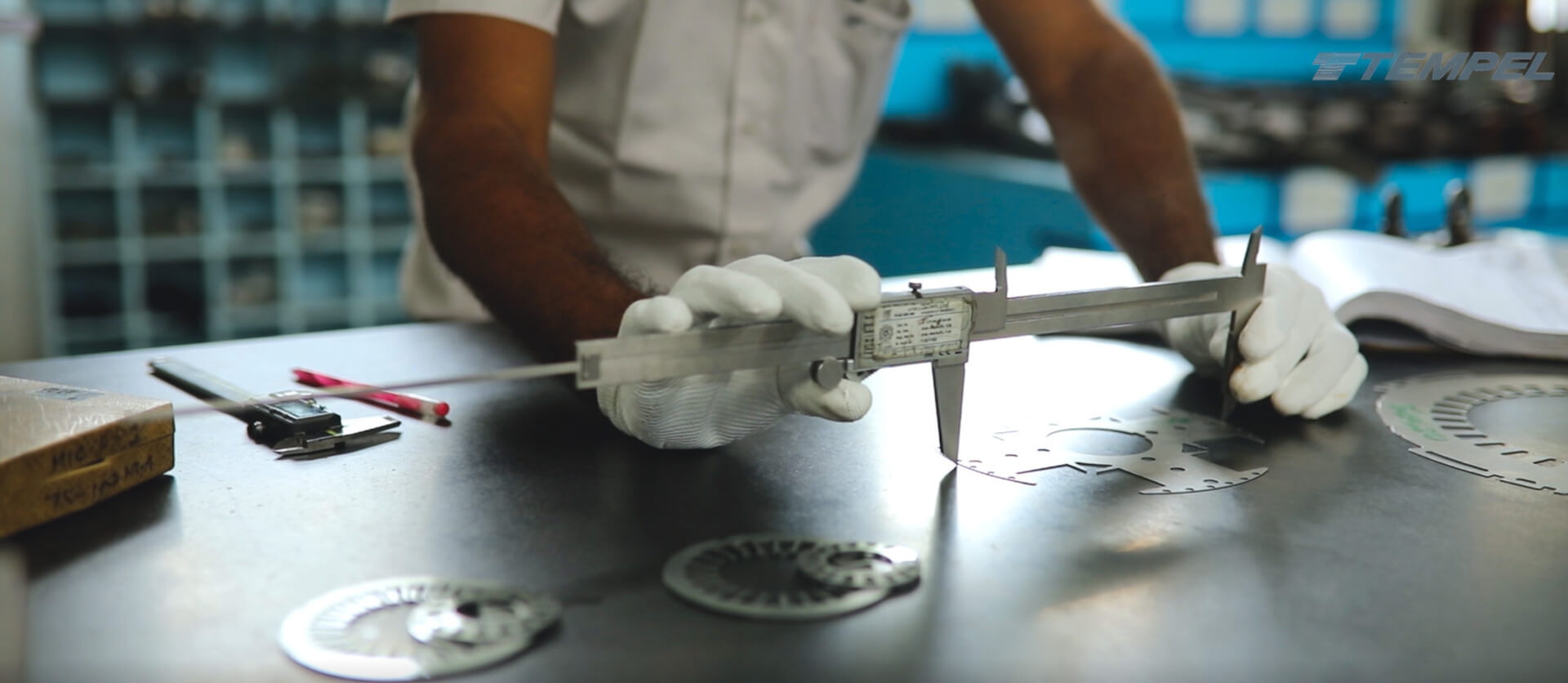 Highly Skilled Tool Makers
Our in-house experts carefully evaluate and design specialized tools. With the flexibility to leverage our global network of industry-leading tool makers, we can build the highest quality tools for our customers, no matter what their needs.
Quality Control
Tempel's quality assurance process is one of the most effective and thorough of any lamination supplier in the world, including detailed reviews and audits to ensure continuous adherence to quality improvement assessment requirements and VDA6.3 requirements.
In-House Die Maintenance and Upkeep
We have a fully self-sufficient asset management database with tooling maintenance and repair capabilities to monitor tooling condition, die life, repairs, and preventative maintenance
Precision Tool and Die Engineering Process
Create Custom Die Designs
Our experts carefully evaluate the customer prints to determine what tolerances are achievable and provide recommendations on the method of measurement for complex geometry design.
Produce Strip Layout
We review the customer's prints to understand how the tool will be laid out, looking for ways to maximize the length of the tool, optimize material utilization, and meet tight tolerances. Once we have a layout that meets our requirements, we get to work.
Review Tooling Station
Tooling stations are reviewed to carefully select features such as index rotation, solid mount or floating punches, embossing design, and piloting system.
Select Press
After tooling features are chosen, we select the appropriate press for the job.
Determine Tool Builder
We use supplier-based knowledge to choose the right tool builder for the project.
Explore Related Services
We're more than an electrical steel laminations supplier; we're a strategic partner in the quest to optimize your products. With our leading-edge solutions in processing, stamping, and engineering, we can help you improve product performance, efficiency, and reliability.