Activity|2020 Tempel Changzhou Quality Theme Month Successfully Closed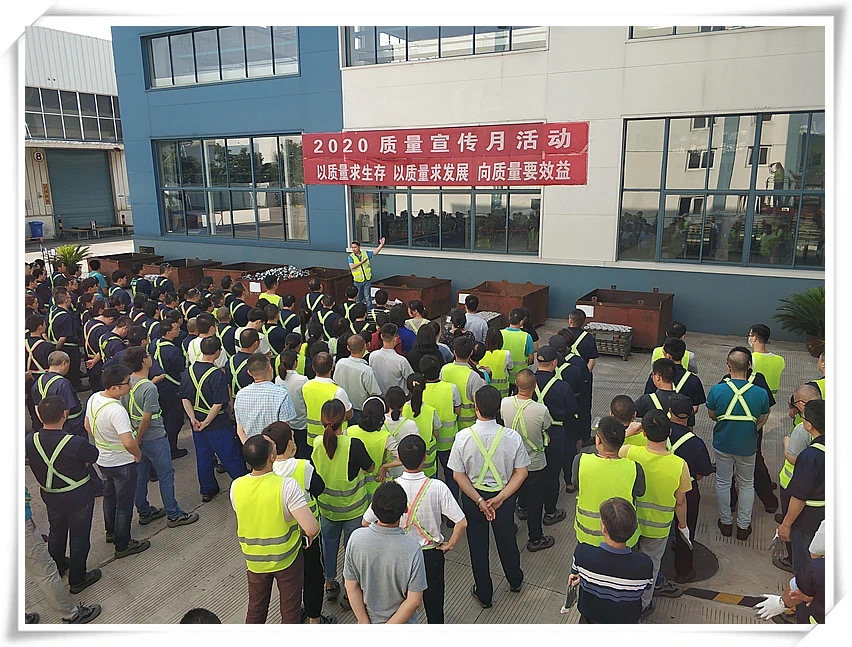 In today's highly developed economy, quality is efficiency, quality is life. Only with high-quality products to meet customer's demand, that is possible to expand market share and improve the sustained competitiveness. Therefore, on June 8 - July 8, 2020, Tempel Changzhou held a grand quality theme activity. The theme is "Quality for Survival, Quality for Development, Quality for Profit". The activity has set up many programs for employees to participate in. In the launching ceremony on June 8, the activity of smashing quality consciousness into the soul deeply touched the heart of every employee. At the conclusion ceremony on the afternoon of July 8, GM Mr. James Zhang comprehensively summarized the achievements of this event.
Spot the faults
Brainstorm and start from our side. Organize all departments to find fault in documents, product quality, production process, etc., Propose solutions to problems such as product quality hazards, and strengthen rectification efforts to eliminate quality defects in the bud.
Special quality education and training
Organize all staff to carry out a series of education and training programs: Read quality code of conduct and keep in mind; Looking back at education and training for major quality anomalies, drawing on painful lessons from the past; Quality awareness and process review and relevant training for production staff; Daily training of quality knowledge question bank.
The best brain knowledge contest
In order to achieve the purpose of learning quality knowledge together and improving quality consciousness comprehensively, we organize all departments to carry out quality knowledge question bank training. Adopt random questions and brush questions to improve the familiarity of quality knowledge. Employees continue to push their limits and participate enthusiastically!
Quality special team to tackle key problems
Organize and set up a special quality team, set the theme, analyze the causes of problems from five aspects of people, machine, material, method and environment. Find short-term and long-term solutions and solve the problems fundamentally. So far, the team has achieved excellent results. Let's congratulate them together!
At the conclusion ceremony, GM James Zhang, proposed four key words for quality management:
1, Consciousness -- Quality is the lifeblood of an enterprise. Quality is closely related to every position and every employee. There must be no paralysis and fluke in quality work. Quality awareness should run through the whole process. There should be a string of quality in every employee's ideology;
2, Participation -- Quality comes from every step of the process. From raw materials to slit coil, transportation, processing, packaging, delivery and so on, every process may produce quality problems. Every position, every employee must participate in, to ensure quality in my mind, quality in my hands;
3, Standard -- Play by the rules and win battles; Execution in accordance with quality management standards is a tool for product standards, customer standards, and industry standards. When the specification is imperfect, the specification can be modified to meet the common quality requirements.
4, Improvement -- Quality management never ends. With the development of the times, customer demand is constantly improving. And market competition is becoming more and more fierce. Keeping pace with the times, being pragmatic and innovative, and standardizing management can improve quality. Growth, progress and keeping pace with the times is another standard to measure the perfection of the enterprise quality management system.
Although the 2020 Tempel Changzhou Quality Theme Month has come to an end, this is not the end, but a new beginning. There is still a long way to go for quality management. Although some aspects have been improved through this quality month activity, some deficiencies in quality have also been exposed. It is believed that Tempel Changzhou staff will continue to work hard, tighten the string of quality, in the future work with perfect product quality for customers. Quality for Survival, Quality for Development, Quality for Profit!