Tempel Active in the Local Community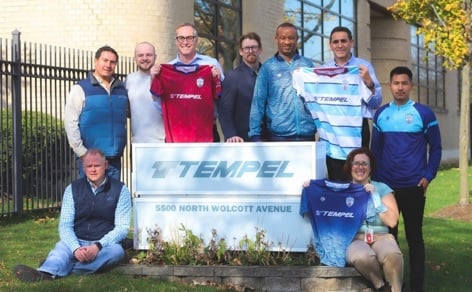 Chicago, November 18th, 2022 —Tempel received a friendly visit from Edgewater Castle FC, a non-profit, semi-professional soccer club that provides low-income, immigrant, and refugee communities of North Chicago with a high-quality, highly organized, and uniquely accessible soccer experience. In 2022, Tempel began a partnership with ECFC to sponsor the team to assist them in positively impacting the community while offering a space for soccer development and enjoyment.

ECFC team management, along with a few players, visited Tempel's corporate office and Chicago manufacturing facility to meet the leadership team and employees to learn more about Tempel's manufacturing capabilities and to express their gratitude for Tempel's partnership.

Andrew Swanson, ECFC's General Manager, recognized Tempel for the support and commitment received during the year. "2022 was a massive year for Edgewater Castle FC and through the highs, lows, challenges & triumphs Tempel Steel was there for us every step of the way as our 2022 primary sponsor. Without Tempel's support, we wouldn't have been able to accomplish what we did.", said Mr. Swanson.

Toward the end of the meeting Tempel Vice President of Sales and Marketing, Roger Mountford, stated, "Supporting the local communities where Tempel is located globally is in our DNA. Partnering with ECFC, a local organization playing a global game, is a perfect fit for Tempel."

Tempel Steel is a global leader in the manufacturing of high precision electrical steel laminations for motors and transformers with manufacturing and distribution locations in the United States, Canada, China, Mexico, and India. Tempel is a partner of choice that provides global material sourcing, metallurgical analysis, advanced product design, prototyping and various value-added capabilities, and has been committed to supporting the local communities in its global locations for more than 75 years.