Tempel India Recognized with Best Employer Award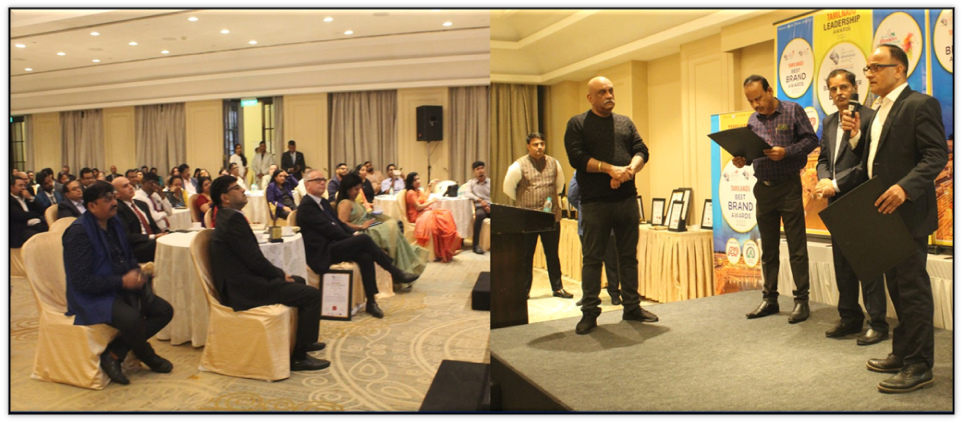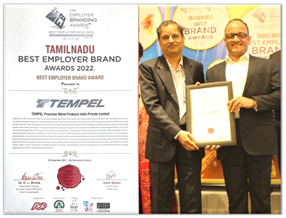 Chicago, Illinois. December 15, 2022- Tempel India has been awarded with the Best Employer Brand Award "2022" in Tamilnadu Province, one of the most prestigious recognitions for local businesses. The announcement was made during the Tamilnadu Best Brand Awards ceremony. This recognition was presented to Tempel's managing director for India, Sethu Madhavan, who addressed the audience during the event. As part of the Worthington Industries company, Tempel shares the core philosophy of putting employees first and by also following the principle to treat others as you would like to be treated
"This award means a lot to the Tempel-Chennai family. We are super excited to win this award for the second time. This is another feather in our cap that recognizes our people centric culture. Our near zero attrition rate and industry leading employee satisfaction levels have earned us this award," stated Sethu.
The 17th version of the Tamilnadu Best Employer Brand Awards event was held on December 7th, 2022 at Taj Connemara, Chennai where more than 145 CEO's and Managing Directors got together to share their successes and vison about their businesses.
Tempel Steel is a global leader in the manufacturing of high precision electrical steel laminations for motors and transformers with manufacturing and distribution locations in the United States, Canada, China, Mexico, and India. Tempel is a partner of choice that provides global material sourcing, metallurgical analysis, advanced product design, prototyping and various value-added capabilities, such as core assembly, Annealing, laser welding, bonding and blank & Notching. Tempel Chennai provides high quality stator and motor Stampings for use in Dana's Electric Vehicle platforms. Tempel is part of Worthington Industries.
About Worthington Industries - Worthington Industries (NYSE:WOR) is a leading industrial manufacturing company pursuing its vision to be the transformative partner to its customers, a positive force for its communities and earn exceptional returns for its shareholders. For over six decades, the Company has been delivering innovative solutions to customers spanning industries such as automotive, energy, retail and construction. Worthington is North America's premier value-added steel processor and producer of laser welded solutions and electrical steel laminations that provide light weighting, safety critical and emission reducing components to the mobility market. Through onboard fueling systems and gas containment solutions, Worthington serves the growing global hydrogen ecosystem. The Company's focus on innovation and manufacturing expertise extends to market-leading consumer products in tools, outdoor living and celebrations categories, sold under brand names, Coleman®, Bernzomatic®, Balloon Time®, Levels Tools®, Mag Torch®, Well-X-Trol®, General®, Garden-Weasel®, Pactool International® and Hawkeye'"; as well as market leading building products, including water systems, heating & cooling solutions, architectural and acoustical grid ceilings and metal framing and accessories.