Tempel receives DANA award for Exceptional Product Quality and Outstanding International Service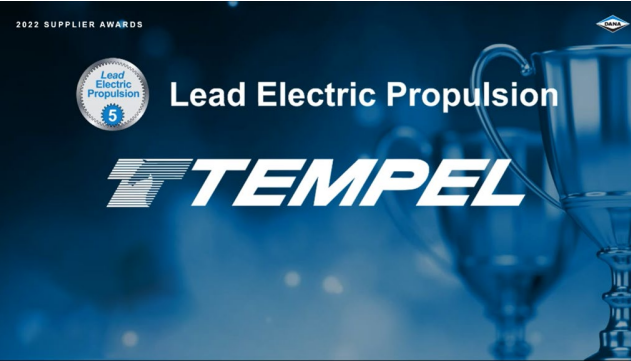 Dana Recognizes Tempel Steel as Global Supply Leader with Latest Award
Exceptional Product Quality and Outstanding International Service Lead to Tempel Steel Award Win in Global "Lead Electric Propulsion" Category
CHICAGO – July 18th, 2023 – Tempel Steel, manufacturer of high[1]precision electrical steel laminations which are the critical components of the motors and transformer cores used in electric vehicles (EV), charging stations, internal combustion engines, industrial equipment, and energy solutions, has earned a prestigious Global Supplier Award from Dana Incorporated (NYSE: DAN) as the top global supplier of the year for their Lead Electric Propulsion category. A global leader in drivetrain and e-propulsion systems, Dana annually honors select partners who demonstrate excellence in supporting Dana's cost, quality, and delivery goals, as well as its "Powering into e-Drive" enterprise strategy.
Tempel Steel is a lead partner supplying high-precision electrical steel laminations for rotors and stators for the high-voltage and low-voltage motors used in Dana's electric vehicle platforms. As a worldwide supplier, Tempel delivers electrical steel laminations for electric propulsion to Dana facilities in China, India, and other locations globally. Additional components of the strategic services Tempel Steel provides to Dana include support for the company's commercial truck and light passenger vehicle programs, as well as management of the key partnerships and supply chains.
"Our relationship with Tempel Steel has grown dramatically over the past five years, propelled by Tempel's industry-leading manufacturing process, unparalleled product quality, and a level of service they provide to Dana that's truly unique in the industry," said Kevin Williams, Vice President of the Electrification Purchasing at Dana. "Our collaboration with Tempel Steel is delivering exceptional innovation to the fast-evolving emobility market, helping build a sustainable future."
"The global Tempel team worked exceedingly hard to support Dana and earn the company's 2022 Lead Electrification Award," said Cliff Nastas, President, Tempel Steel. "This honor is a testament to the commitment, dedication, and strong partnership we build with our customers, and it challenges us to continue to be an innovator which consistently delivers superior-quality products and services around the world."
Dana is a leader in the design and manufacture of highly efficient propulsion and energy-management solutions that power vehicles and machines in all mobility markets across the globe. The company is shaping sustainable progress through its conventional and clean-energy solutions that support nearly every vehicle manufacturer with drive and motion systems; electrodynamic technologies, including software and controls; and thermal, sealing, and digital solutions. Based in Maumee, Ohio, USA, the company reported sales of $10.2 billion in 2022 with 40,000 people in 31 countries across six continents. www.dana.com.
About Tempel Steel
Tempel Steel, a Worthington Industries company, is a global leader in the manufacturing of high precision electrical steel laminations for motors and transformers with manufacturing and distribution locations in the United States, Canada, China, Mexico, and India. Tempel is a partner of choice that provides global material sourcing, metallurgical analysis, advanced product design, prototyping and various value-added capabilities, such as core assembly, Annealing, laser welding, bonding and blank and Notching. Tempel Chennai provides high quality stator and motor Stampings for use in Dana's Electric Vehicle platforms.
About Worthington Industries
Worthington Industries (NYSE:WOR) is a leading industrial manufacturing company pursuing its vision to be the transformative partner to its customers, a positive force for its communities and earn exceptional returns for its shareholders. For over six decades, the Company has been delivering innovative solutions to customers spanning industries such as automotive, energy, retail and construction. Worthington is North America's premier value-added steel processor and producer of laser welded solutions and electrical steel laminations that provide light weighting, safety critical and emission reducing components to the mobility market. Through onboard fueling systems and gas containment solutions, Worthington serves the growing global hydrogen ecosystem. The Company's focus on innovation and manufacturing expertise extends to market-leading consumer products in tools, outdoor living and celebrations categories, sold under brand names, Coleman®, Bernzomatic®, Balloon Time®, Levels Tools®, Mag Torch®, Well-X-Trol®, General®, Garden-Weasel ®, Pactool International® and Hawkeye™; as well as market leading building products, including water systems, heating & cooling solutions, architectural and acoustical grid ceilings and metal framing and accessories.